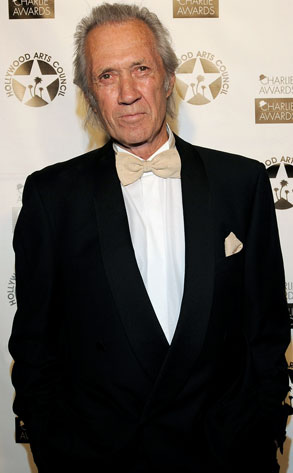 Did David Carradine pull a Michael Hutchence?
Like the INXS singer, whose mysterious 1997 death in a Sydney hotel was believed to have been related to a sex act gone wrong, police in Thailand are focusing on the possibility that the star of Kung Fu and Kill Bill may have accidentally killed himself while engaging in autoerotic asphyxiation.
Autoerotic asphyxiation is a practice whereby a person intentionally cuts off oxygen to the brain for the purpose of sexual arousal.
A representative for the Bangkok Swissotel's Nai Lert Park hotel told E! News that a maid found the 72-year-old actor's naked body hanging in a closet in his luxury suite. Now, investigators quoted in the Thai news site the Nation are revealing that there was also a rope tied around his genitals.
"The two ropes were tied together," Police Lt. Gen. Worapong Chewprecha told reporters. "It is unclear whether he committed suicide or not, or he died of suffocation or heart failure."
A coroner completed an autopsy earlier today, but authorities say the results will not be released for at least three weeks, per standard procedure given the "unusual circumstances" surrounding Carradine's death and pending toxicology results.
Thai officials initially announced the erstwhile Grasshopper apparently committed suicide, but that theory was categorically shot down by Carradine's reps and shocked members of his family yesterday.
"I know for a fact that he did not commit suicide," comanager Tiffany Smith told E! News.
Her partner, Chuck Binder, wondered whether foul play may have played a part.
"I heard from a producer in Bangkok that his hands were tied behind his back and that it's being covered up," Binder said. "How do you get a rope around your neck and around your genitals and do all this by yourself?"
He continued: "The more I talk to people the more I think there's no way he killed himself. My take is there was definitely foul-play. There's a lot of weird stuff that happens in Bangkok. This isn't L.A. or New York."
Smith said that Carradine was "full of life" when he arrived in Thailand May 29 to shoot a movie called Stretch.
That description fit with statements from eyewitnesses who saw him the night he died. One of those was a hotel employee who said the martial-arts enthusiast seemed to be in a "good mood," often smiling while drinking at the lobby bar Wednesday night and chatting up various staff members before retiring to his room sometime around 9 p.m.
Carradine was a no-show at a crew dinner later that night and detectives say his room key card record shows he never left his suite. While there's also no indication anyone else entered the thespian's room, police have yet to officially rule out murder.
The U.S. Embassy in Bangkok is expected to repatriate Carradine's body on Saturday. No word yet on funeral arrangements.
Meanwhile, perhaps lending credence to the new theory of his death, The Smoking Gun has unearthed a circa 2003 affidavit filed in court by Carradine's ex-wife Marina Anderson claiming the actor engaged in unspecified "deviant sexual behavior."
Fans of the prolific character actor should take comfort in knowing that Carradine had at least a half-dozen projects in the can at the time of his death. First up is a guest shot on Tuesday's episode of Mental.
From Eonline.
(Originally published June 5, 2009, at 6:45 a.m. PT)